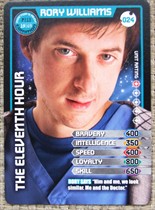 This is card number 024, Ally card number 7 and common card number 32.
It has a unit rating of 1  and has the following stats
Bravery 400
Intelligence 350
Speed 400
Loyalty 800
Skill 650
It's inscription reads: Rory says "Him and me, we look similar. Me and the Doctor."