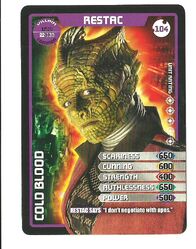 This is card number 104, villain card number 17 and common card number 22.
It has a unit rating of 3 and has the following stats
Scariness 650
Cunning 600
Strength 400
Ruthlessness 650
Power 500
It's inscription reads: Restac says "I don't negotiate with apes."
She is related to Alaya
She appeared in the episode "Cold Blood."