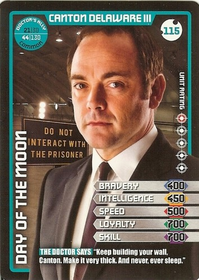 This is card number 115, Ally card number 21 and common card number 44.
It has a unit rating of 1 and has the following stats
Bravery 400
Intelligence 450
Speed 500
Loyalty 700
Skill 700
It's inscription reads: The Doctor says "Keep building your wall, Canton. Make it very thick. And never, ever sleep."
This is most updated character in the pack.